High artistic quality and
High resistant engraving for eternity.
Custom memorial plaques.
Full Customizable, Price in Realtime. UK & Worldwide Delivery.
A engraver artist for a beautiful memorial plaque.

Here are pictures of our engraved plaques :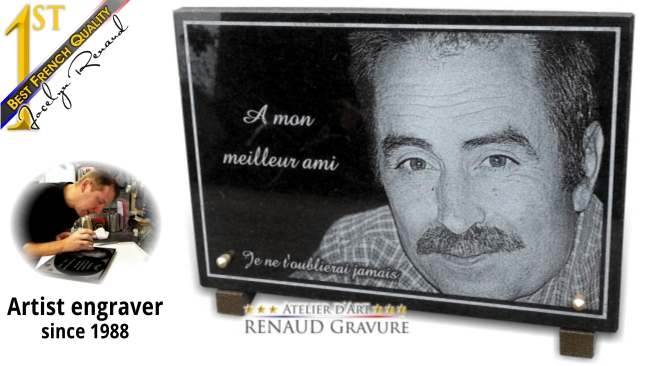 Photo and portrait engraved on granite for a beautiful memorial plaque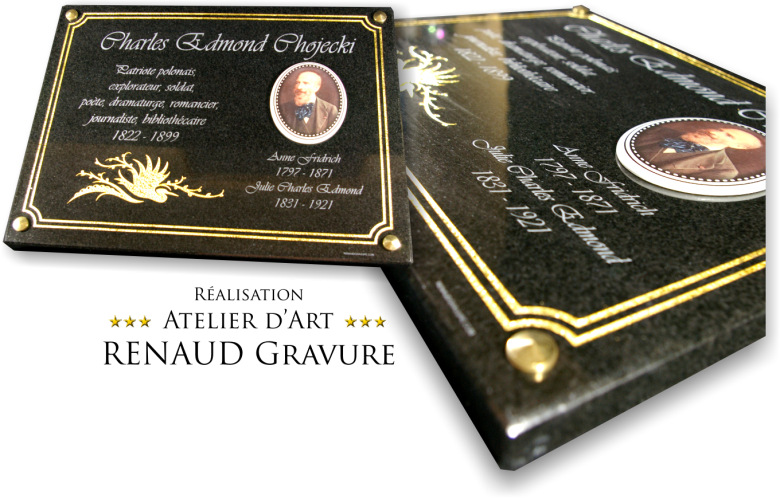 Porcelain photo or photo plaque for headstone with granite engraved and ceramic medallion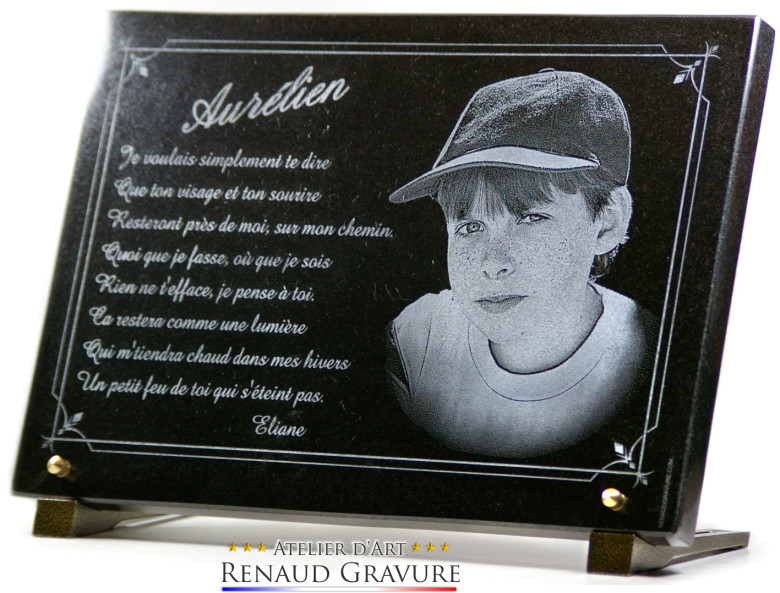 Photo portrait of a boy engraved in granite for a beautiful funeral plaque or garden plaque for memorial

Engraver and carver artist made high quality plaques for cemetery, headstones and memorials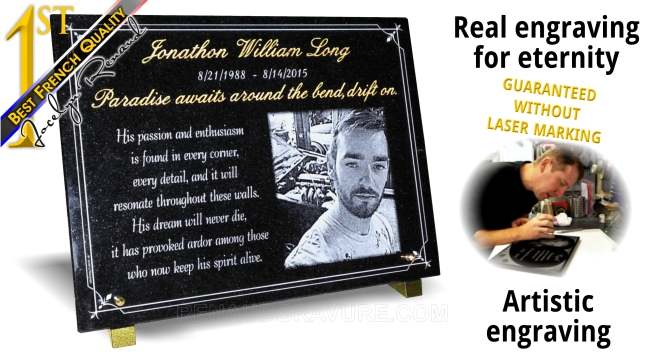 40x30cm granite plaque with photo engraved and customized.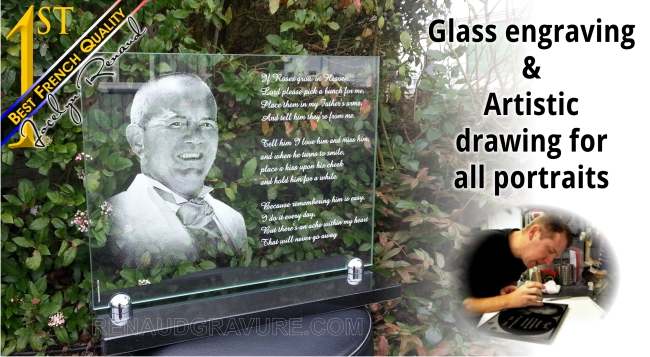 40x30cm Glass memorial plaque and in loving memory plaque for cemetery.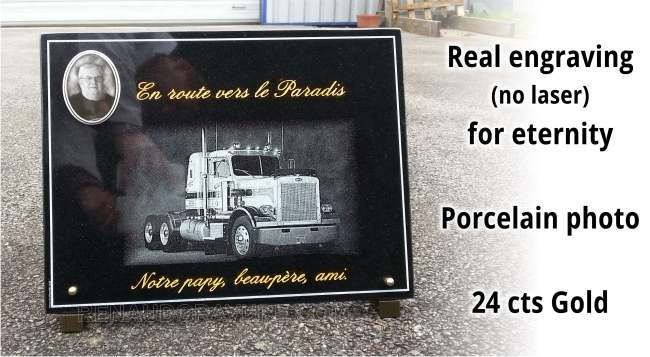 Customizable funeral plaque with truck engraved in granite surface.
Quality comparative, understand, compare :
Here acomparative by image in order to well understand the differences between the qualities of engravings :

We show you lots of photos of memorial plaques,
they are voluntary very big to let you
judge the unique and higher quality of our work .


Renaud Gravure is currently the only firm able 
to reach such a level of quality in this 3 simultaneous criteria :
 Thickness of the detail of the engraving                     
 Artistic quality of the portraits                           
 Stable strength of the engraving in the mass.

Authentic engraving guaranteed more than 50 years.


Here the real appearance of the photoengraving by the machine.

The photos of other pages ( when they are real) are too small 
to be able to watch the inelegant screen. 
Very generally, 
it is a matter of graphic computer photomontages
which don't represent at all the ugliness of the screen.

For the plaques by laser, the stracing is strictly superficial
thus it is covered by a microscopic coat of paint.
This paint can soften in hardly few months !
Then without paint, the microscopic tracing becomes invisible.
It is the major detail of the laser because it is not an hollowed engraving.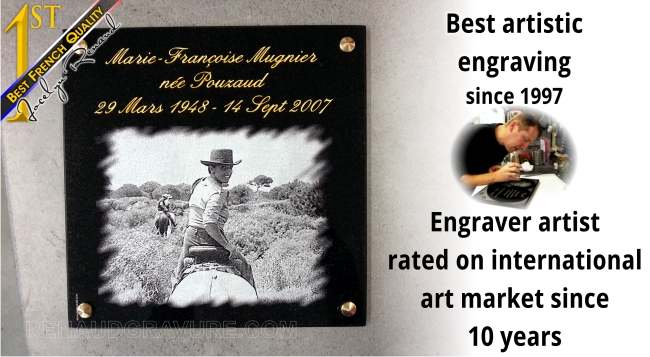 Beautiful memorial plaque with personal photo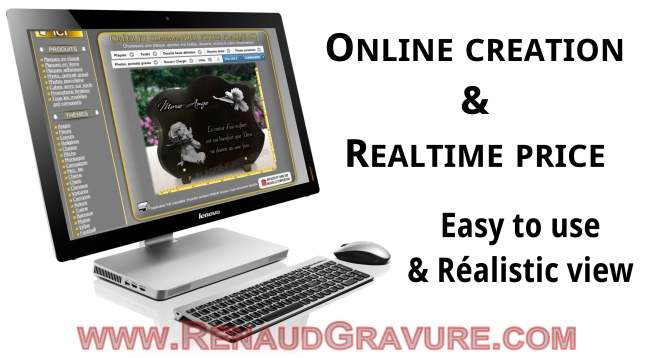 Personalised funeral plaque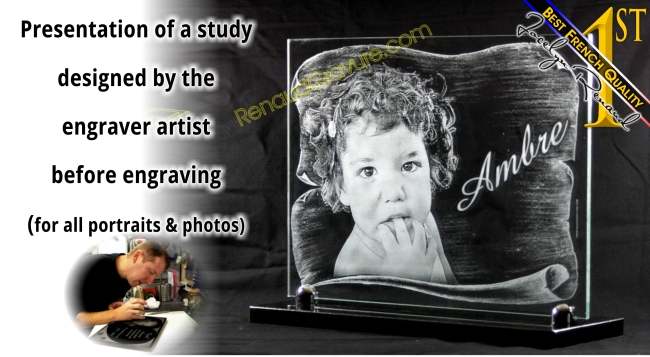 Portrait photo engraved on glass memorial plaque for outdoor headstone.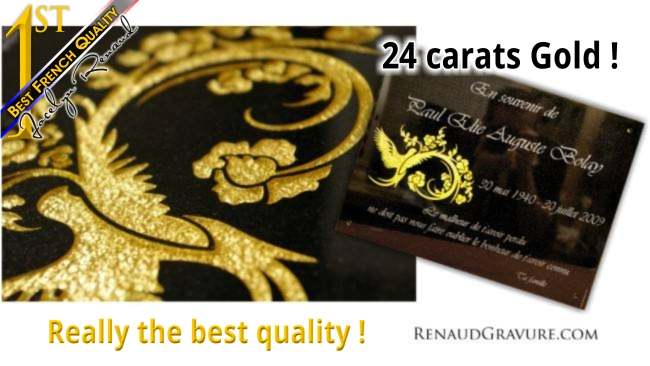 Gilding on funeral plaque for outdoor cemetery.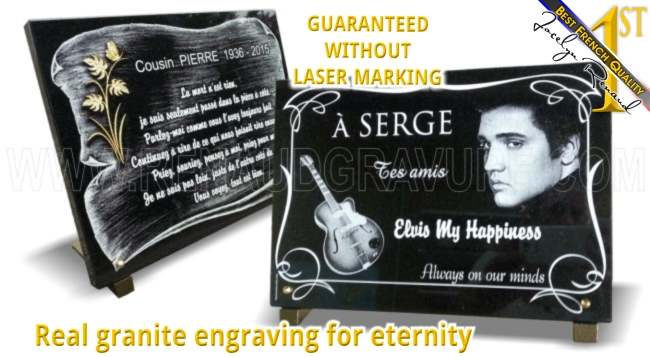 Granite memorial plaque with engraved photo
Engraved granite memorial plaque for headstone with angel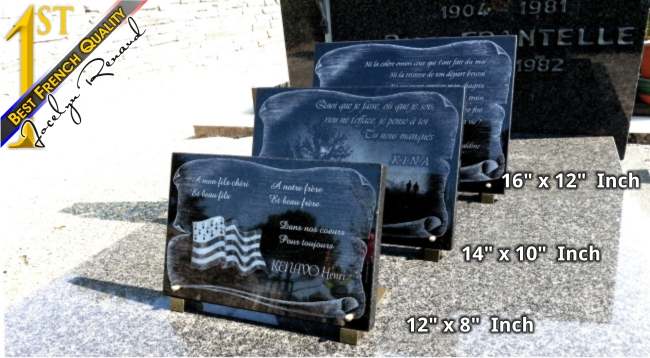 3 sizes of granite memorial plaque

Photo carved on granite memorial plaque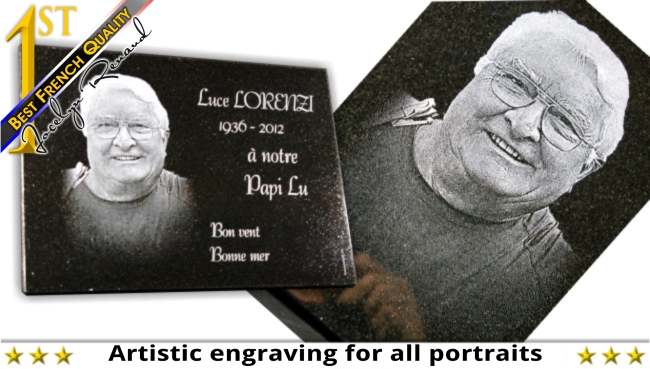 Photo engraved on granite memorial plaque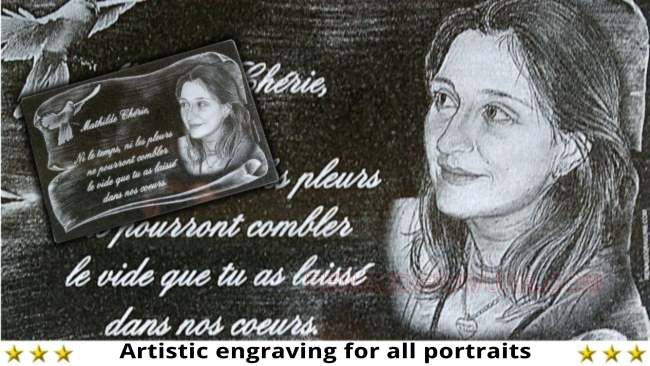 Parchment and photo engraved on granite memorial plaque.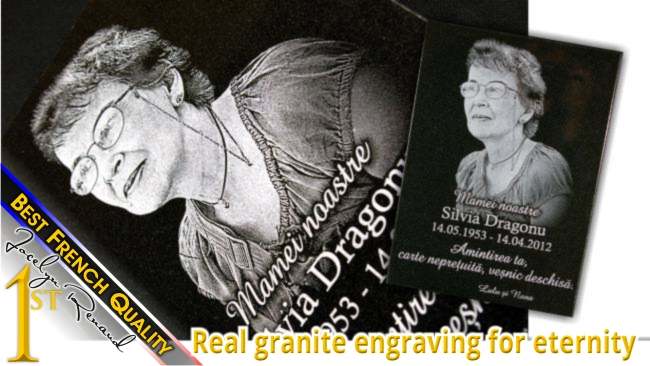 Custom funeral plaque with photo engraved on granite surface for eternity. (Without laser marking or ink)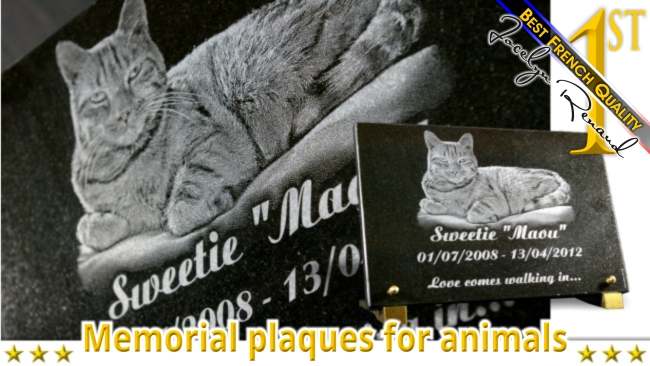 Cat and pet memorial plaque to customize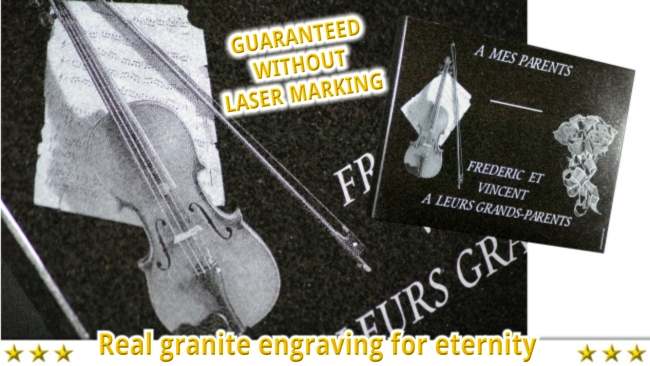 Violin engraved on memorial plaque to personalize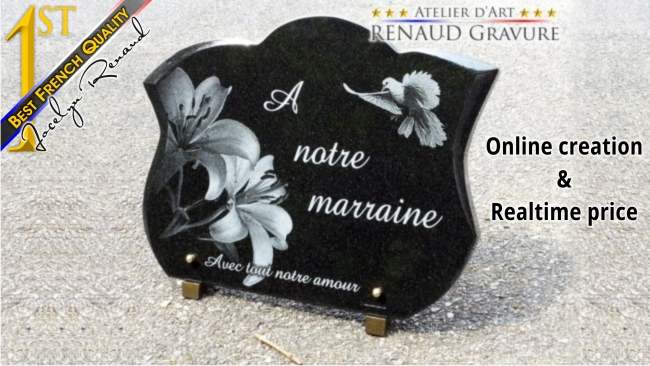 Beautiful granite memorial plaque to customize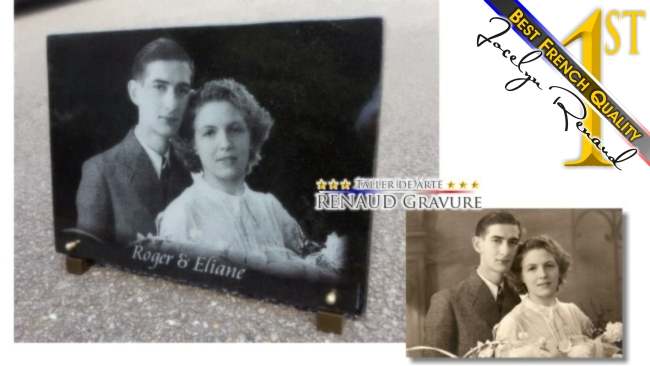 2 photos and portraits engraved on a granite memorial plaque to customize.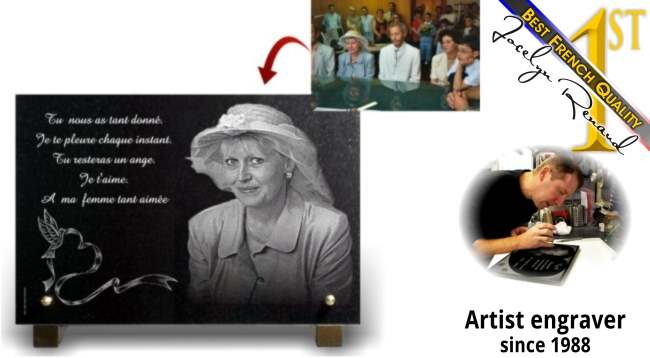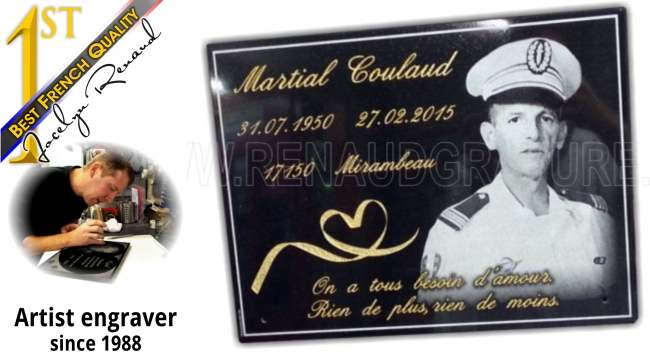 Cemetery memorial plaques with engraved photos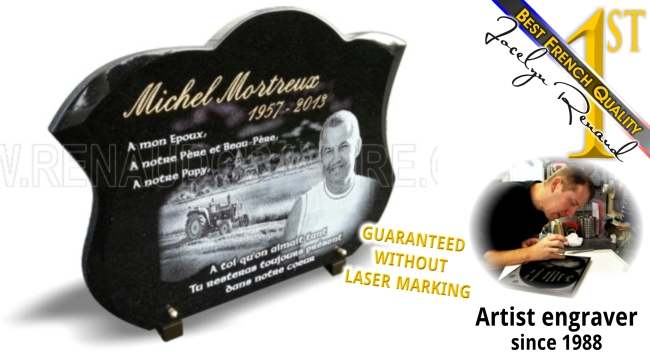 Country design and photo portrait on a granite memorial plaque.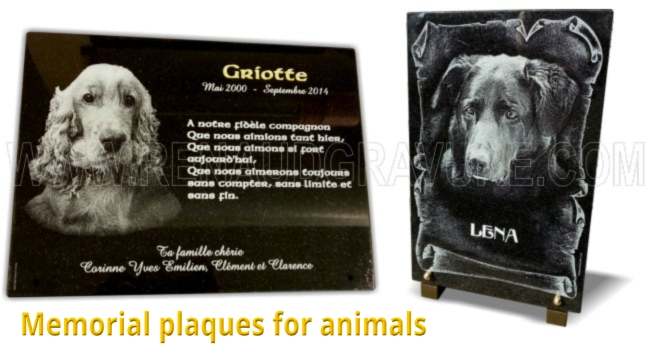 Pet memorial plaque, engraved granite.