Grave plaques for motorcyclist to personalize
Page : 1

We regularly make engraved memorial plaques with motorcycles or motorcyclists.
These grave markers are customized by the customer using our site configurator.
More than 30 engraved motifs on the motorcycle theme are available online in the configurator.
To access it, click on "High definition drawings" then "Motorcycle" category.

You will find patterns for scooters, motorcycles, enduro races or motocross.
There are Harley-Davidson, Yamaha, Kawasaki or Ducati. Also Triumph and BMW.

Each design can be placed wherever you want and on all models on the site.
If you want a new motorcycle design, we will gladly add it.

Engraved funeral plaques with motorcycle engraving

Customize memorial plaques below :
Change plaque or material, change patterns , sizes , texts , add your photos ...
The customisables models below are only a small part of the creative possibilities.

Rating :

9.9 / 10 - 26 reviews collected by Google.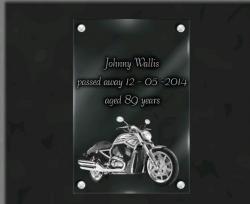 See more :

Material : Engraved : glass

Size : H. 30 x W. 20 x Th. 1 cm, 1.5 kg

288 Euros
The price includes this full customization.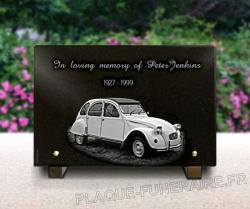 See more :

Material : Engraved : granite

Size : H. 20 x W. 30 x Th. 2 cm, 4.5 kg

204 Euros
The price includes this full customization.
The software on-line lets you conceive freely a memorial plaque for motorcyclist by adding patterns from
our collection online. Those drawings are represented below. If you wish we can
provide you others photos of motorcycles but we also can reproduce your own photo of moto or
a motorcyclist onhis moto. Do not hesitate in proposing us your photos and we will say you what we can do.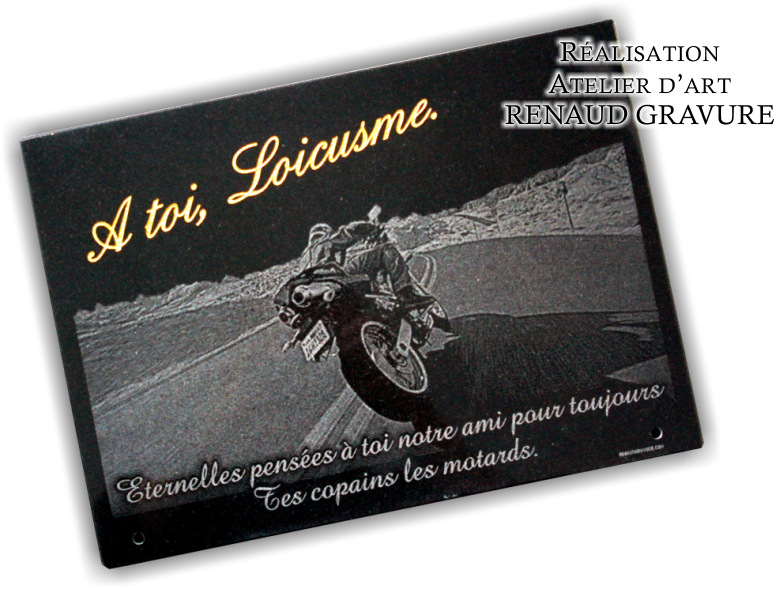 The motorbike or the thrill of speed
All the one who already have ridden a moto know it,
this vehicle provides unique and extreme sensations, even if it is sometimes risky.
Indeed the thrill of speed makes sometimes forget the motor bike is a means of transport especially dangerous.
If one of your close relations had lived his passion to the end and that unfortunately
a misfortune happened to him, you can pay him homage
by graving his moto on a memorial plaque.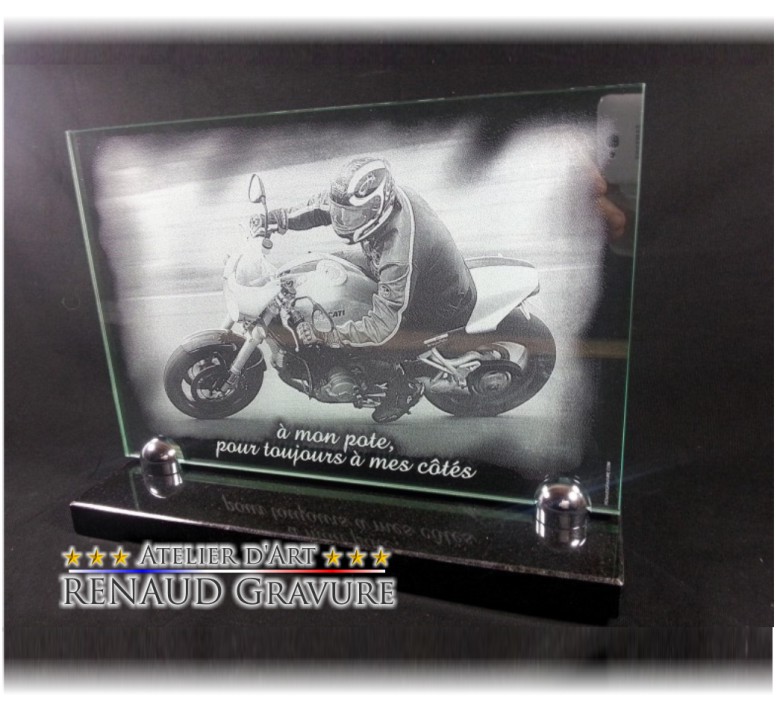 Road motorbikes or motocross every models are possible
If you have lost a friend or a relative of whom the moto was the passion,
you may pay tribute to him through a personalized memorial plaque on the theme of moto.
Road motorbikes, motocross, Harley Davidson and so many models are available on the website Renaud Gravure.
It is possible to represent a motorbike alone or with its driver.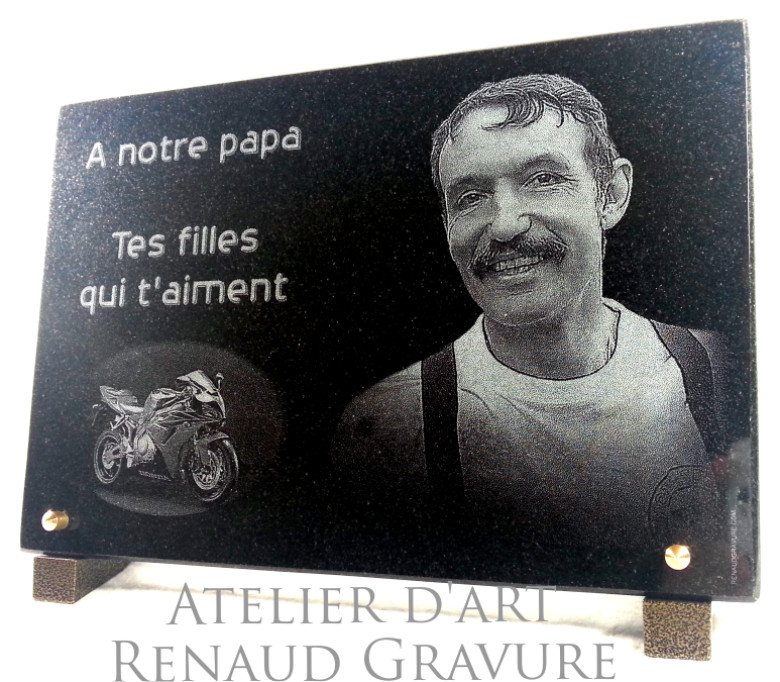 The moto, a sport and a passion
The motorcyclists spend a lot of time for their passion,
it can be through outings organized by associations of motorcyclists,
or through motocross or road racings.
Every biker has his style according to the moto he owns.
Whatever was the passion of the dear dead person you can pay tribute to him
by graving on a memorial plaque an object symbolizing his passion :
his moto, crash helmet or a motorcyclist in leathers.




Our references :




Jewellery Cartier, National Monument Consevation Center, U.N.E.S.C.O.,
Versailles, Embassies & Consulates, French Academy,
The Sorbonne (Paris), Woods TV, CNN, Town hall of Paris, Nice .../p>