Memorial plaques for hunter to personalize onlin
Page : 1

In this category, you will find templates ready to customize.
We put at your disposal a large number of motifs on the theme of hunting and hunters.

In our configurator, section : -High definition drawings- then category : -Chasse-.
The drawings represent hunting scenes, photos of hunters with dogs, hunting dogs, pheasants, deer and wild boars.

It is therefore very easy to create your hunter memorial plaque by customizing a model below and creating your hunter plaque entirely.

Design your hunter's grave marker below :

Customize memorial plaques below :
Change plaque or material, change patterns , sizes , texts , add your photos ...
The customisables models below are only a small part of the creative possibilities.

Rating :

9.9 / 10 - 13 reviews collected by Google.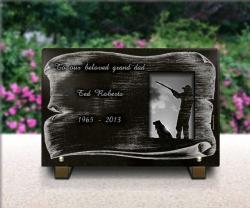 See more :

Material : Engraved : granite

Size : H. 20 x W. 30 x Th. 2 cm, 4.5 kg

249 Euros
The price includes this full customization.
Those pre-made plaques are presented to you in order to give you ideas of making up but this
choice is not exhaustive. Tens of patterns about the hunters' theme are available on the online configurator.
Possibilities of customization are unlimited,
you can create a memorial plaque hunter according to your taste and your budget.
RENAUD Gravure guarantees you a making of a highest quality and faithful to your project made online.
We are also at your service to answer to your questions, search new patterns or create a pattern to your request.

Theme of hunting
on memorial plaque RENAUD Gravure
The hunting is represented in the United Kingdom, with more than 60 000 hunters.
The request in customizable memorial plaques on the theme of hunting thus is important and regular.
We have worked for a long time in order to suggest you very aesthetic patterns about the hunting theme.
You will find all the decorations in our online software.
There are patterns which mix hunting and nature, and others essentially about hunters.
Possibilities of customization :
If, despite all our efforts to propose you hunting patterns you don't find what you're looking for, we can engrave your own
drawings or your own photos. For this, it is easy : Once in the software, click on the right menu :
Import image or photo to engrave' thus, we will engrave your image.
Stable engraving :
Guarantee without laser tracing, serigraphy or selfadhesive.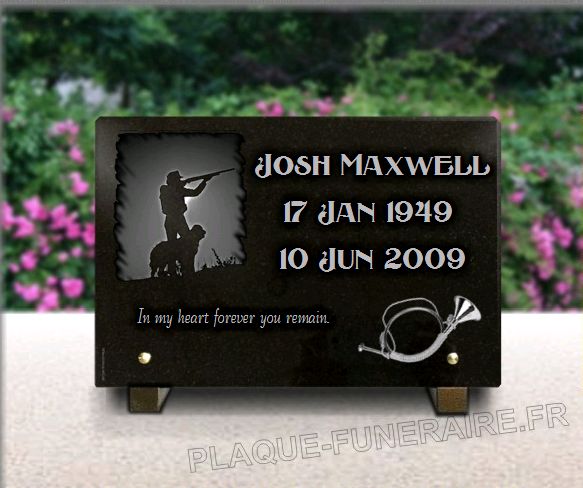 The grief of hunters family
For a long time the man has hunted, in the prehistory the man used to hunt to feed himself,
today it is no more the case, hunting has become a sport
but a dangerous sport because every year we lament numerous accident that plunge into mourning lots of families
Also to create a customized memorial plaque on the theme of hunting,
Renaud Gravure proposes you some models representing a hunter with his dog or a hunter and his shotgun,
those models are usable like that or customizable as you want it.
The hunting and its dangers
Every year in the UK, around 150 hunting accidents are registered 30 of which are fatal accidents.
Most of the hunters are passionates and live their passion to the end even if they are aware of the risks.
Also to pay homage to them, and to pay homage to their passion
Renaud Gravure propose magnificent memorial plaques hunting and hunter .
Online patterns exist but everyone can modify as he wishes in order to make an entirely customized model.
Then it is possible to reproduce photo of the late hunter in a hunting landscape with his spoils.
The hunting, a passion that can cost the life
We are often hunter from father to son, especially in country,
the hunting is a family tradition, a passion passed on from generation to generation.
But it is a dangerous passion, even if it is less murderous nowadays than a century ago,
hunting still kills lots of people every year.
But what a very nice posthumous present to pay homage to his passion !
It is for this reason Renaud Gravure suggests the manufacture of glass memorial plaque on the hunting theme,
so you can choose among classic hunting sceneries or
download your own photos of the late hunter with his shotgun and his dog.



Our references :




Jewellery Cartier, National Monument Consevation Center, U.N.E.S.C.O.,
Versailles, Embassies & Consulates, French Academy,
The Sorbonne (Paris), Woods TV, CNN, Town hall of Paris, Nice .../p>