Memorial plaque with horse and equestrian sports
Page : 1

Here are customizable models based on horse, mare and foal designs for horse racing, equestrian sports and horseback riding enthusiasts.

These patterns are all engraved in granite or glass.
Our engraving is guaranteed totally unalterable.

We do not make low-end engravings such as laser markings, or low-strength funeral articles such as PVC, plastic with print or stickers.

Create on-line, your memorial plaque with horse.

Customize memorial plaques below :
Change plaque or material, change patterns , sizes , texts , add your photos ...
The customisables models below are only a small part of the creative possibilities.

Rating :

/ 10 - 13 reviews collected by Google.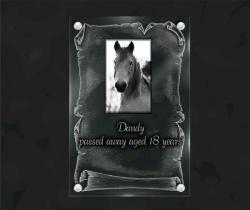 See more :

Material : Engraved : glass

Size : H. 30 x W. 20 x Th. 1 cm, 1.5 kg

275 Euros
The price includes this full customization.
Granite or glass plaques are customizable with scenery refering to the deceased's passions.
About the horses' theme, we suggest you drawings of horse races and horse-riding,
some photos of horses in different positions and of different breeds.
The horse, an animal very close to the man.
The horse is considered as one of the closest to the man animals,
people who like horses genereally spend a lot of time for them,
between walk and the care they bring to them. If your late friend or relative was one of these passionates
of horse offer him a memorial plaque horses especially conceived for him about this magnificent animal.
Renaud Gravure suggests you memorial plaques about this equestrian theme but can make
plaques made to measure based on the photo you will provide.
If you have questions, do not hesistate in contacting us, we will guide you in the elaboration of a plaque and
give you advice to arrange decorative elements on the plaque.
We also can help you in the composition of your memorial text.

Retranscribe the horse passion in a memorial plaque.
The equitation is a sport but above all is a passion.
If the deceased practised this sport or owned, himself, horses and spent all his spare time in brushing down them,
train them, mounting them, you can create a memorial plaque representing horses.
A galloping horse or at rest, a horse alone or in herd with or without his rider,
numerous are possible representations on the theme of horse.

The horse as a pet.
Loosing his pet is often difficult,
regularly he has spent long years next to us, and we are attached to.
His death is often a trial.
Renaud Gravure conconceives bereavement plaques special for pets.
He creates some magnificent for horses for all the the owners
of a dead horse or for passionate of horse riding.
With the help of a photo of your horse at rest or galloping,
Renaud Gravure could create a customized memorial plaque for paying him homage.



Our references :




Jewellery Cartier, National Monument Consevation Center, U.N.E.S.C.O.,
Versailles, Embassies & Consulates, French Academy,
The Sorbonne (Paris), Woods TV, CNN, Town hall of Paris, Nice .../p>