Create your football funeral plaque with football engraving.
Page : 1

All these football memorial plaques are fully customizable.
We inserted drawings of: footballer juggling with a ball, 2 young children playing football, soccer shoes with soccer ball.
We also added football action scenes with a goalie who catches the football and a football coach.

To be complete, you will also find American football scenes with an American football player.

It is possible to use a football funeral plaque model and insert it to another design.
To consult all the drawings for funeral plaques on the theme of football it is necessary to use our configurator then to click on -Drawings high definition- and category -Football-.

As always all our patterns are deeply engraved in granite, so they are totally unalterable.

Customize your football memorial plaque using our online configurator

Customize memorial plaques below :
Change plaque or material, change patterns , sizes , texts , add your photos ...
The customisables models below are only a small part of the creative possibilities.

Rating :

9.9 / 10 - 26 reviews collected by Google.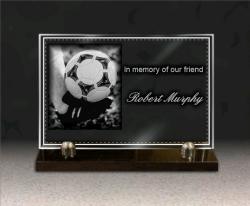 See more :

Material : Engraved : glass

Size : H. 20 x W. 30 x Th. 1 cm, 3.7 kg

283 Euros
The price includes this full customization.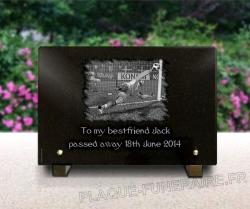 See more :

Material : Engraved : granite

Size : H. 20 x W. 30 x Th. 2 cm, 4.5 kg

204 Euros
The price includes this full customization.

One of the most popular sport in the United Kingdom : Football
In the country where several were born, and especially football they register around 4 million
of players, and around 40% of the population interested in.
Therefore it's very popular in this country.
Also, we can easily imagine to create a memorial plaque football to pay homage
to a deceased friend who was fan of foot, as a spectator or as a player in a club.
Renaud Gravure suggests reproductions of football ball or player scoring a goal.
Representing a footballer on a memorial plaque
If like lots of British your dead friend was passionate by sport and
especially football then do not hesitate to order at Renaud Gravure's a memorial plaque about the theme of football.
Engraving a football player in action,
the ball to the foot or scoring a goal will allow to retranscribe the deceased's passion.
Renaud Gravure proposes your those memorial plaques goalkeeper in granite, real glass
with the possibility to engrave in colour photos on a porcelain medallion.

Engraving a bootball ball on a memorial plaque
Pay homage to a friend by talking about his passion is often used in the memorial domain.
It is actually a really good way to describe the deceased personality.
Renaud Gravure let you create plaques totally customized on the football theme
in suggesting to engrave a football ball or player in action on a pitch.
Ideally you may provide a photo a the deceased practising his passion, it will be reproduced as quickly as possible



Our references :




Jewellery Cartier, National Monument Consevation Center, U.N.E.S.C.O.,
Versailles, Embassies & Consulates, French Academy,
The Sorbonne (Paris), Woods TV, CNN, Town hall of Paris, Nice .../p>