Funeral plaques for fishermen to personalize online.
Page : 1

Here is our collection dedicated to fishing.
These models have been created so that you can customize a funeral plaque for fishermen.

We have integrated drawings of fishermen in boats, fly fishing scenes but also fishing boats, fishing equipment and riversides or seashores with fishermen seen from behind or in backlight.

Not all fishermen's drawings are shown here.
To view them in their entirety, you must customize a grave marker and click in the configurator on -High definition drawings- then -Category Fishing-.

We are always at your disposal to advise you or help you in the realization of your mourning plaque project.

All these funeral plaques with fisherman are customizable:

Customize memorial plaques below :
Change plaque or material, change patterns , sizes , texts , add your photos ...
The customisables models below are only a small part of the creative possibilities.

Rating :

9.9 / 10 - 26 reviews collected by Google.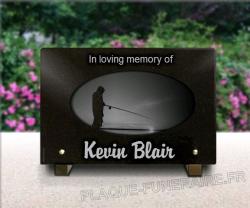 See more :

Material : Engraved : granite

Size : H. 20 x W. 30 x Th. 2 cm, 4.5 kg

206 Euros
The price includes this full customization.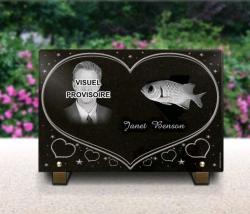 See more :

Material : Engraved : granite

Size : H. 20 x W. 30 x Th. 2 cm, 4.5 kg

330 Euros
The price includes this full customization.
We design our engraving in our workshop of engraving in Cantenay Epinard (49), France.
This french manufacture takes part in our economic balance. Choose french products !
To engrave drawings or reproduce portraits we work with very different and complementary techniques.
It starts from microsanding, to the cutting by chasel, to the engraving by diamond point and standard sanding.
The exceptionnal quality of an engraver artist.
Unbeatable price 'direct workshop'.

Job or passion the fishing might be dangerous
Whether it is practised in river, stream or sloping torrent,
fishing has different dangers.
The major risks of the fishing are of course the drowing, but also the immersion syncope,
they also register some accidents of fisherman struck by lightening.
Whether it is a leisure or a profession, fishing is sometime risky and leads the death of tens of person every year.
Thus Renaud Gravure suggests to pay homage by suggesting your customized memorial plaque on the theme of fishing.
Your customized memorial plaque made in France.
At the time where the importation products make real problems to our national economy, it is good to find
real french manufacturers who produce and sell in France personalized articles
Chinese, russian or indian, the undertakers' stall have become flooded by
plaques of memorial park for decades.
The profit and margins always more important get the better of a french production handicaped by social contributions
The general crisis might be the key of the back of the reason,
the wish of quality and a social commitment in front of his own purchases.
Nowadays, with an unequalled value,
RENAUD Gravure proposes you to buy beautiful, smart and lasting.
Stable engraving :
Guarantee without laser tracing, without serigraphy and without selfadhesive.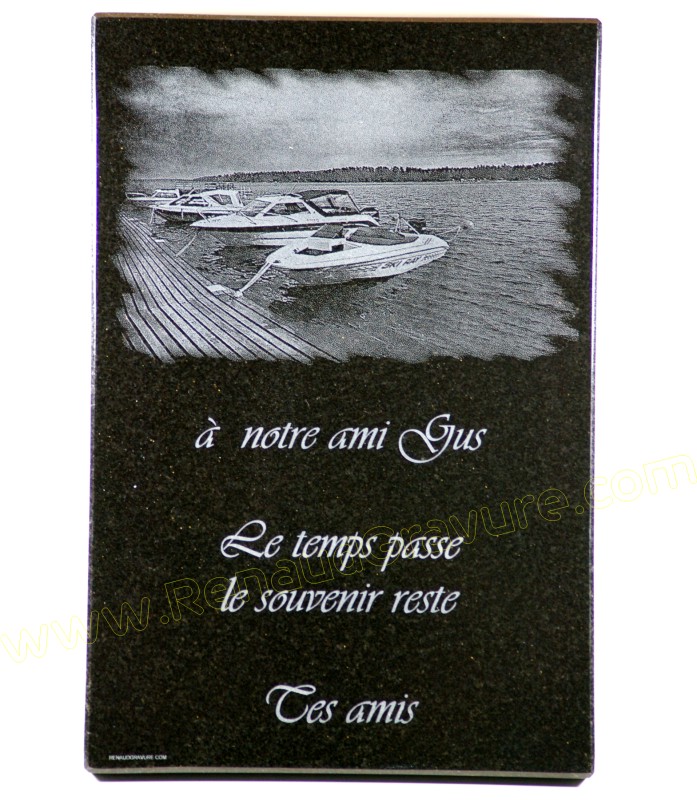 The fisherman are passionate
Just like hunting, fishing once was practised in the only and unique goal to feed ourselves.
Nowadays fishing has become a sport or much more a passion which attracts lots of amateurs in the UK
but unfortunately it is sometimes dangerous and sometimes claims victims.
Renaud Gravure lets you pay homage to the deceased
in engraving the photo of a fisherman dead while fishing in his favorite river,
or this one on his boat.



Our references :




Jewellery Cartier, National Monument Consevation Center, U.N.E.S.C.O.,
Versailles, Embassies & Consulates, French Academy,
The Sorbonne (Paris), Woods TV, CNN, Town hall of Paris, Nice .../p>