Models of memorial plaques with cars
Page : 1

With the models below you can create a funeral plaque with a car engraving.
Many car designs are available in our configurator.
Engravings of Porsche, Ferrari but also rally cars, Formula 1.
We added American cars, vintage cars, BMW and Mercedes.

All the car drawings can be found in the configurator by clicking on -High-Definition Drawings- pui category - Automobiles -

If the car you want is not in our collection, ask us to add it.

The lovers of beautiful cars will be able to receive in homage a memorial plaque with a luxury car or a vintage car according to what he preferred. There are many models available

but you can provide us with your own picture of a car that the deceased was particularly fond of and we will reproduce it with the greatest care on granite or glass.


Here are some examples of memorial plaques with car:

Customize memorial plaques below :
Change plaque or material, change patterns , sizes , texts , add your photos ...
The customisables models below are only a small part of the creative possibilities.

Rating :

9.9 / 10 - 13 reviews collected by Google.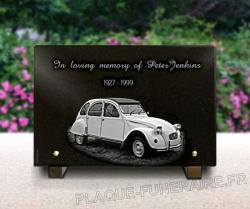 See more :

Material : Engraved : granite

Size : H. 20 x W. 30 x Th. 2 cm, 4.5 kg

204 Euros
The price includes this full customization.
The lovers of beautiful cars can receive as an homage a memorial plaque with a luxury car
or a car of collection according to what he prefered. Numerous available models exist
but you can provide us your own photo representing a car that the deceased especially
liked and that we will reproduce with the biggest care,
in granite or glass.
Collecting old cars was his passion.
The deceased was a old cars collector,
he spent all his leisures to fix them and to do up.
Renaud Gravure can also reproduce the photo of the very first car of the deceased by way of memory.

Car a passion or a job.
When one likes cars, he has the possibility to make it his job
by deciding to work in the car world as a concessionaire or a mechanic,
or he can keep this activity as a passion.
If you just have lost a dear person of whom the job or the passion had a link with motor,
do not hesitate to engrave a memorial plaque about this theme.
Send your photos and Jocelyn Renaud will reproduce them on the plaques of granite or genuine glass.




Our references :




Jewellery Cartier, National Monument Consevation Center, U.N.E.S.C.O.,
Versailles, Embassies & Consulates, French Academy,
The Sorbonne (Paris), Woods TV, CNN, Town hall of Paris, Nice .../p>