Design a funeral plaque with a truck:
Page : 1

We have put online a large collection of drawings engraved on the theme of trucks.
This collection is composed of semi-trailers, trucks of different brands.
Logistics carrier and mover trucks are also present.
There are also CIT trucks, buses, buses and public transport.

We also added: crane truck and dangerous goods transport trucks.
There are also American style campervans and trucks.

If this collection does not meet your expectations, do not hesitate to inform us so that we can add the missing drawings.
Here are our funeral plaques with drawings of trucks :



No results match your search criteria.

For more information , you can use our > contact form <.




There are many truck designs that can touch on this theme.

We have grouped drawings of road transport trucks into the kind of semi-trailer that
Professional truck drivers use
every day. We also thought about the big American style trucks with big bunks in the back.
Dangerous goods trucks are present.
There are also armored trucks for ground transportation.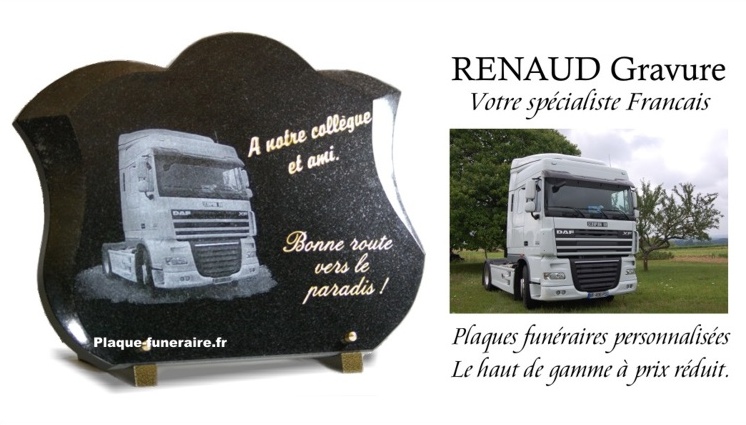 Depending on requests, we have added buses,
a tramway but also camping cars.

If you notice a gap in our collection,
please let us know and we will add the missing drawings.

All drawings are available in the configurator.
Click on "Create a plaque" at the top of the screen to access this configurator
then once opened, click on "High definition drawings"
and choose the category of drawings "Trucks".

Using the
configurator is simple and your price is constantly recalculated and displayed in real time.