Memorial plaques with drawings of locomotives and trains.
Page : 1

This category includes drawings of locomotives of different models.
We have also added the representation of a switch and a railway track.
You will find pictures of TGV, trains and trams.

So you can create a funeral plaque for a railwayman or a railway enthusiast.
Use these models to create your memorial plaque with train drawing:

Customize memorial plaques below :
Change plaque or material, change patterns , sizes , texts , add your photos ...
The customisables models below are only a small part of the creative possibilities.

Rating :

9.9 / 10 - 13 reviews collected by Google.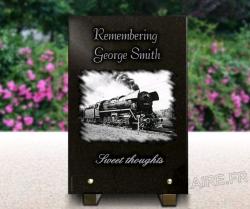 See more :

Material : Engraved : granite

Size : H. 30 x W. 20 x Th. 2 cm, 4.5 kg

207 Euros
The price includes this full customization.
The train is a means of locomotion that makes it possible to travel long distances
in a minimum of time, it can transport both goods and passengers.

Trains have never stopped evolving since the first locomotive steam engine in the 1800s.
There are different types of trains, among passenger trains,
there are night trains, high-speed trains,
as well as suburban trains allowing to circulate around the big agglomerations.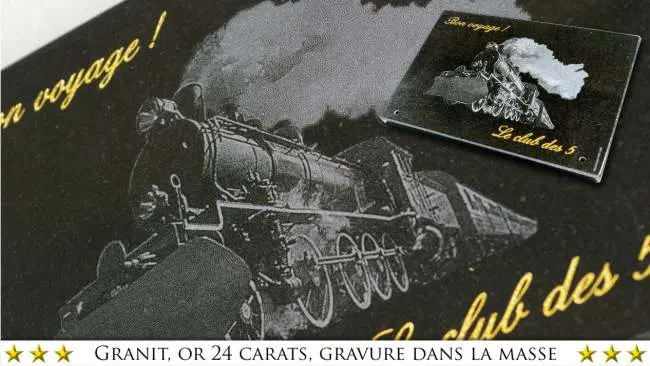 Above: Memorial plaque Train measures 30x20cm. It is in polished granite.
This plaque can be in version on feet or to screw.
The engraving is gilded with very high quality 24 carat gold leaf (1000/1000th)





Our references :




Jewellery Cartier, National Monument Consevation Center, U.N.E.S.C.O.,
Versailles, Embassies & Consulates, French Academy,
The Sorbonne (Paris), Woods TV, CNN, Town hall of Paris, Nice .../p>