Our Rugby Memorial Plaque category for sports and rugby players
Page : 1

To refer to Rugby Team Sport, we have created this collection of some drawings on the theme of rugby.
To consult the entire collection of drawings on the theme of this team sport,
please use our online configurator then click on -High Definition Drawing- and then on the category -Rugby-.

If you do not find the design you want, you can ask us to integrate a new one in the collection,
but know that you can also import your own photo of this sport or a rugbyman in the configurator.

Your photo will be worked manually by the portrait engraver artist Jocelyn Renaud and
A photo-realistic study will be presented to you before engraving so that you can give your agreement or possible instructions for modification.
Our memorial plaques on the theme of rugby



No results match your search criteria.

For more information , you can use our > contact form <.




We offer a collection of drawings on the theme of Rugby.

These drawings are available in our
funeral plaque configurator. by clicking on the button " High definition drawings " then " Rugby " category

The proposed drawings represent

rugbyman in action,
A Logo design with the rugby ball passing over the bar,
A stadium of rugby,
A picture in perspective with the rugby ball in the foreground and the goal in the background.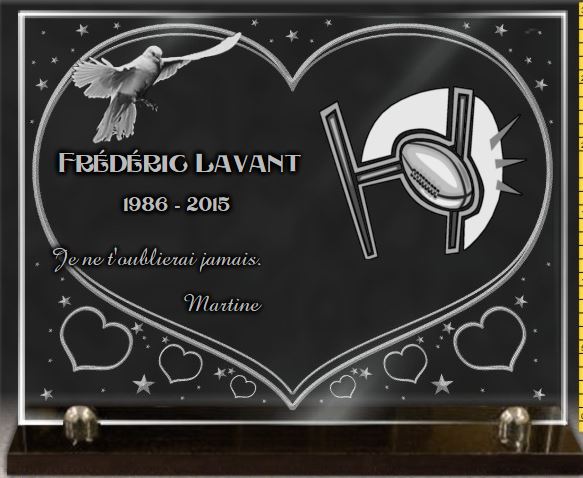 All these drawings can be added to any funeral plaque.

You can place one or more drawings, move them, change their size and rotate them.
The price of your composition is continuously recalculated and displayed on the screen.
So you have no surprises regarding the tariff.
Feel free to compare: our quality/price ratio is by far the best
of the market because we are true professional engravers
and more we sell directly, without any intermediary.