Engraved mountain landscape on a burial ground plaque.
Abstract drawing and short text.
A granite marker with a landscape and abstract drawing. Ornment.
A mountain landscape on a burial marker. It is a good idea for sportman, or a moutain lover to have on his tomb a photo of this kind of landscape. There are in the catalogue several photos of landscapes. In the case you are not satisfied, there is no problem, only solutions.
You can bring your own photo. For instance if the deceased used to love a special place, you can add it. Plus, the engraver artist will work on it, draw it to be engraved. After this work, he will send you the project, and wait for your agreement to engrave it.
At Renaud Gravure's, we want to satisfy you. It is important that you can display the plaque you wanted on the gravestone.

The two aluminium feet are provided.

What is on the plaque:

This is a black granite plaque. There are decoration, abstract drawings in two corners : in the top left corner and the bottom right corner. They are exactly the same, except the one at the right is bigger.

On the bottom left corner, there is mountain landscape. There are trees in a plain at the first plan, moutain in the background and some clouds in the sky. This landscape has a panorama shape.

Above it, next to the first ornment there is the text on two lines "In memory of James Muller 1958 - 2012"

The plaque is put on two aluminium feet with brass screws

How to design it:

The decorations are in the choice of the plaque. You can not remove them.

- The plaque : "Plates"; "Black granite plates". Then click on the thumbnail "Plaques on metal base". In the menu on the right, choose "Collection Oppos".

- The landscape : "Hgh definition drawings"; "Create drawing #1". Then pick in the menu " Country". You will find it in this category. There are other landscapes in "Country" or "Mountain".

- The text : "Texts"; "Create text #1". Then please write it. If you want the same font, please click on "Style 8"; from the thumbnail "2: Letters' shape".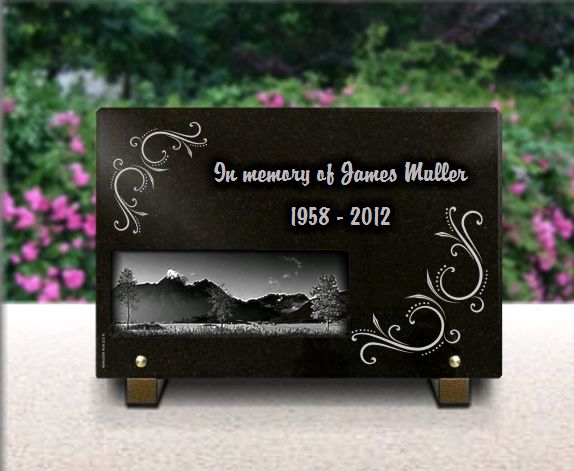 Material : granite Height : 20 cm Width : 30 cm Thickness : 2 cm Weight (around) : 4.5 Kg

Personalise this memorial plaque
Price calculated in real time




248 Euros
The unalterable engravings presented
are included in the price





---