Memorial plaque for a kid. Engraved young animals. Granite plaque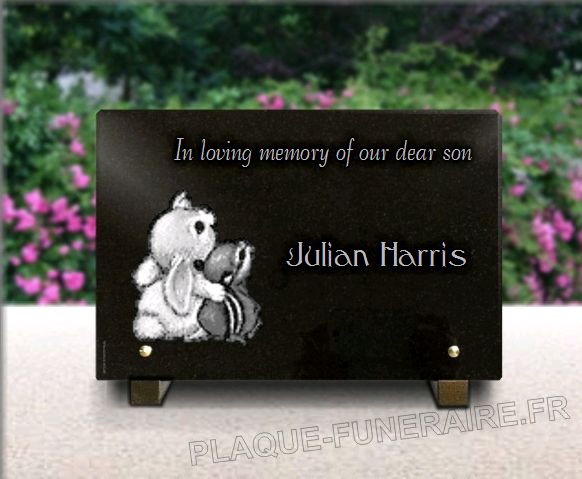 Material : granite Height : 20 cm Width : 30 cm Thickness : 2 cm Weight (around) : 4.5 Kg

A plaque of high quality for a late child.
If you have lost a dear young person, you create him a granite memorial plaque,
engraved in the mass ( so stable).
You can personalize this plaque, composed of a drawing of animals for kids.

The two feet in aluminium are stainless and ensure the stability of the plaque.

The plaque is in granite, a material from India, known for its darkness and strongness.

Paying an homage to one of our child is complicated, and we want it to well done. Be sure at Renaud Gravure's the work of the engraver is truely well done.




202 Euros




Price calculated in real time for each personalisation.

Secure payment : Visa, MasterCard, AmericanExpress, PayPal.

Delivery to United Kingdoms, Ireland. Worldwide : Reduced price.


The unalterable engravings presented
are included in the price.




---





What are the elements :




This is a black granite plaque for a kid.

There is on the left a drawing of a rabit and an animal. This is a drawing for child. The size is quiet tall. The two animals are turning back to the public and pointing the sky.
On the model, it looks like they are reading the message.

The message at the top says "In loving memory of our dear son", in italics.

Next to one animal's head there is the name and last name "Julian Harris". It has a different writting from the sentence.





---





How to reproduce it in the configurator :




- The plaque : You do not have to change it.

- The text : The first one is in "style2". You can type down your text by following those steps "Texts", "Create text #1", type down, "2: Letters' shape" and finally "3: Size, position, rotation".
The second text is in the "style 6". Follow the previous process.

- The drawing is in "kids : toys, drawings".

For the texts and the drawing you can use the cursors on the last thumbnail.




---