Personalized engraving of funeral plaques with dolphins
Page : 1

We propose different drawings to engrave on the theme of the dolphin.
You will find all these engravings in the configurator on the button "High definition drawings" then category "Dolphins".

If you wish, we can add designs to the collection according to your suggestions.

The models with engraved dolphins are below:



No results match your search criteria.

For more information , you can use our > contact form <.




Our complete collection of dolphin drawings is available in our Dolphin Funeral plaque Configurator
by clicking on the button: "High definition drawings" then category "Dolphins".

You can then choose a dolphin drawing by dragging these drawings.
Click on the desired pattern to add it to the plaque and move it,
change the size and turn it as you wish.

The price of the pattern and all the components on the plaque is recalculated
and displayed in real time on the configurator.
So there are no surprises on the tariff.

The dolphin is an animal of the cetacean category, which has fascinated man for a very long time for its beauty,
his ease in the water and his intelligence superior to many other animals.
This animal often lives in groups, but is easily approached by humans and is often affectionate.
Many stories share dauphins that would have saved shipwrecked
or who would have come to the rescue of men in distress.

These animals are easy to train because they have a very good
memory. and can learn many acrobatics.
There are even specific parks where they are trained to swim with the public.
It is for this reason that dolphins amaze men so much,
such a big and impressive animal that can be so nice, is surprising.
It is perfectly possible to reproduce a dolphin picture on a
funeral plaque. if this animal was one of the passions of the deceased.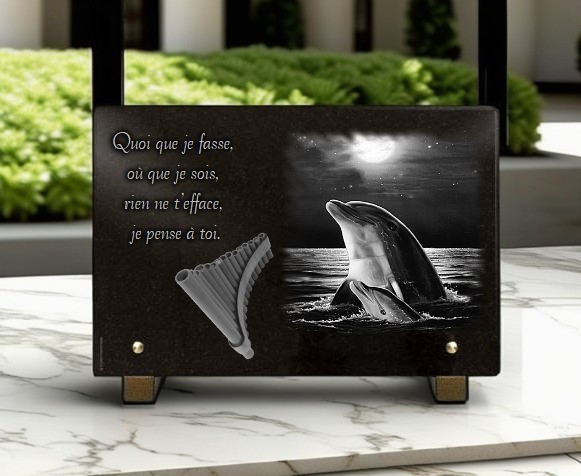 Above: The cemetery plaque is made of solid granite 30x20cm and 20mm thick.
Dolphins with sea and sky are engraved in the mass
This is not laser or printing but a real
engraving of art dug in the mass and thus INALTERABLE.

Other dolphin drawings are waiting for you in our configurator,
button'High definition drawings' then category'Dolphins'.


The dolphin is a majestic animal that makes many men dream.
Indeed, this cetacean able to swim, to jump out of the water, fascinates many of us by its agility.

For many, it is the symbol of freedom, power.
He has, moreover, a sympathetic head, since one always has the impression that he smiles.
Swimming with a dolphin is the dream of many people.

The idea of being able to swim in the middle of the sea already gives a feeling of freedom,
but doing it with an animal as impressive as the dolphin is even more incredible.
Some cinematographic or literary works have shared the fusional relationship
that can come between a man and a dolphin.
This relationship makes adults dream as much as children,
and shows that this animal is one of man's best friends with the dog.
This king of the oceans fascinates so much that some people believing in reincarnation,
wish to be reincarnated as dolphins to finally enjoy this coveted freedom.