Create a memorial with a drawing of a candle, a candle...
Page : 1

The memorial plaque models below are fully customizable.
We have placed drawings of cierges, candles and candles.
Our collection includes torch patterns, candelabra and candle designs.

To access this complete collection of drawings you must click on the yellow button at the top left of this page -Create plaque-.
Once in configurator, you must click on the button -Drawings high definition- then on the category -Candle-.

Creating a mourning plaque is very simple, you can change the designs as you wish, you can also change their dimensions and move them.
Of course, it is possible to add several candle drawings on the same plaque.
Feel free to look at all the models on this site as they will give you ideas to create your own personalized funeral plaqueW.
A memorial plaque on the theme of candles :



No results match your search criteria.

For more information , you can use our > contact form <.




candle burial plaques models above have
candle drawings and other candlesticks. These models are fully customizable and it is possible to add a design from
candles, candlesticks, candlesticks, candlesticks, candelabra, candlesticks.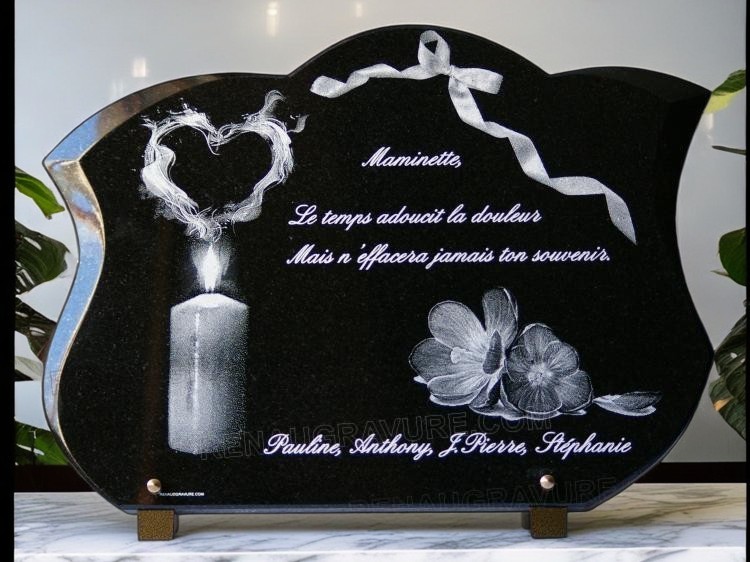 The burial plaque above measures 40 cm wide and 30 cm high
Its sides are cut, then chamfered and polished shiny
We carved a candle, heart-shaped smoke, flowers and a small ribbon.
The whole forms a very feminine plaque.
Perfect for a woman

We propose memorial plaque with light or torch.
All these drawings are available in the configurator by clicking on the
button "

"high definition drawings" then candle categories.

Then simply click on the desired candle design and it will be added to the

plaque. If you are looking for another candle design and you do not find it,
contact us, we will help you and if necessary we will add the requested drawing to the collection.