Contact form




Please ask your questions, attach your .jpg, .pdf , .doc, etc.





Atelier d'Art RENAUD Gravure
2 rue de la chênaie - Z.A. de la Croix de Sarthe
49460 Cantenay-Epinard - FRANCE. Phone French only : 002-41-32-14-13
www.RenaudGravure.com
Siret : 422 946 541 00030
APE : 9003 A
TVA : FR 95 422 946 541





Ask your questions, we are here for you.
Renaud Gravure is a family business with a passion for the art engraving profession since 1997.
Therefore feel free to contact us through the contact form above.
We don't speak English very well so we prefer an email contact.

We will be happy to advise you and help you design your memorial plaque project.

You can use the configurator and make backups of your project. By informing your email during the backup you will receive an email containing the number of your backup.

Thus, we can load your project and exchange with you by email to give you some advice on the layout of the elements that make up your funeral plaque project.

You can contact us by the contact form above.

You can use the form below to send us images or documents that you would like to have engraved on a grave plaque.
As far as possible, avoid retouching the photos of the deceased yourself, as this seriously hinders our artistic and manual work.

For all of this,
you do not need to order or pay because the use of the configurator is totally free and without obligation.
You can use it freely and do not need to create an account.


After ordering, where possible, we also try to correct grammatical and spelling errors.
However, as this service is free of charge, we cannot be held responsible for any error that we have not corrected.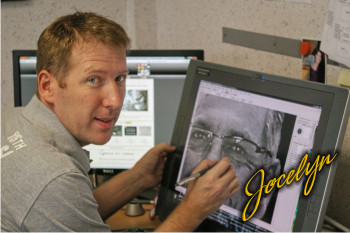 A unique artist engraver and portrait designer.
Stone engraver and portrait etcher, Jocelyn RENAUD is listed on the international art market (See dictionary Larousse : Drouot listed artists).

Extremely rare distinction: Some of his works are registered in the general inventory of French heritage.

We make only custom-made memorial plaques and on request.
Therefore, we need a maximum of 10 working days to make your grave plaque.

After ordering, each original drawing you import into the configurator is manually worked by the artist engraver, which implies a turnaround time of several days given the large number of requests.

The graphic study prior to engraving is sent by email to the customer so that he can give his opinion and indicate any changes to be made. (If there are any.)

Renaud gravure is a small company with 4 employees.
Each funeral plaque is the object of a very particular care given by passionate people who like to realize authentic and unique works.

A guarantee of quality, the RENAUD Gravure company works for national monuments (ex historic monuments), large luxury houses such as Cartier and for embassies for over 20 years.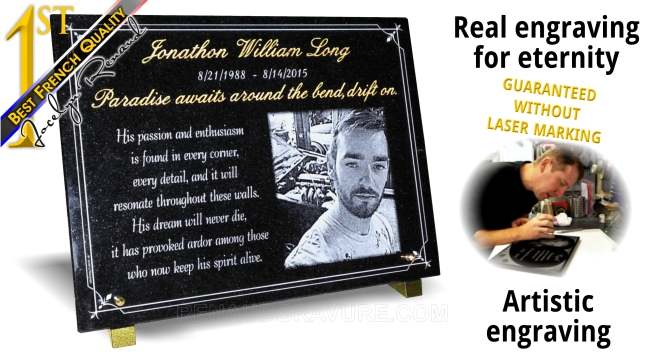 Our references :




Jewellery Cartier, National Monument Consevation Center, U.N.E.S.C.O.,
Versailles, Embassies & Consulates, French Academy,
The Sorbonne (Paris), Woods TV, CNN, Town hall of Paris, Nice .../p>