Adhesive memorial plaques of granite 10mm.
Technical embedding acrylic pre installed.
To stick on columbarium, stele, memorial or cinerary monument.
Kind of support : flat, smooth, dry, non-porous. Resistance to the frost, rain and heat.

WORLDWIDE
SHIPPING





ARTISTIC
ENGRAVING
The features :

Granite of a deep and homogeneous black coming from the best extraction quarries of the world : India

Thickness reduced to 10mm for a better aesthetic appearance and a reduced weight

Polished bright face and sides by traditional polishing ( not with varnish or silicone)

Sticking by adhesive technical pre installed in the back of the plaques ( installation without drilling)

Sticking only on a support that is flat, smooth and dry of a kind of polished granite, marble, tiles, glass…

For porous or irregular supports, we propose tube of silicone.

Genuine engraving hollowed so stable ( no laser or printing)




Easy and visual customization, price in real time and free delivery ( metropolitan France)

Artistic work of portraits with photo realistic study for agreement before engraving
.
Custom memorial plaques below :

Change plaque or material, change patterns , sizes , text , add your photos ...
The custom models below are only a small part of the creative possibilities.

Note :

9.8 / 10 - 58 opinions.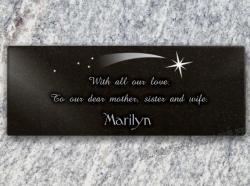 Adhesive memorial plaque, engraving of stars. Engraved personal text
Material : granite

Size : H. 15 x W. 40 x Th. 1 cm
   2.3 kg

240 Euros
The price includes the full customization.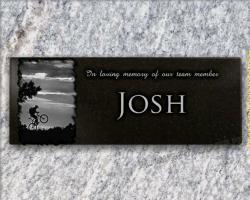 Granite plaque to stick, engraved cyclist. Engraved text.
Material : granite

Size : H. 15 x W. 40 x Th. 1 cm
   2.3 kg

224 Euros
The price includes the full customization.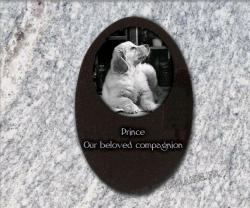 Original memorial plaque. Ovale, to stick on the grave.
Material : granite

Size : H. 30 x W. 20 x Th. 1 cm
   2.2 kg

240 Euros
The price includes the full customization.


86
customers have marked all the articles of the category :
Plaques selfadhesive adhesive and columbarium
. Average mark :
4.8
/ 5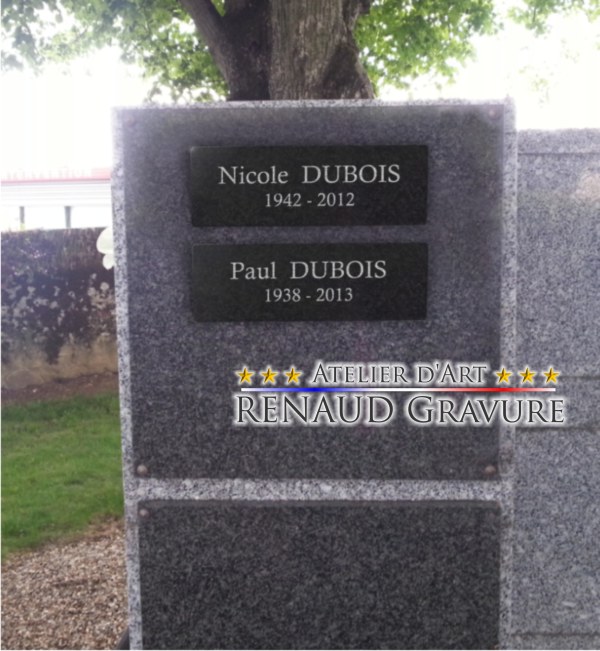 Not any drilling to do, you unpack, put and it is embedded !
The support must be smooth, clean and dry.
Recommanded support : granite, marble, glass, tiles, metal.
Avoid limestone stone, brick, roughcast and other porous or irregular surfaces.
The adhesion starts from the putting up.
In 5 seconds, the plaque remains in place,
the stick of embedding reachs its optimal adhesion in 48 hours.
Possible customization
of selfadhesive memorial plaques others formats :
Below :
Adhesive granite paque, polished face, softened edges, engraved and customized by a parchment, engraved portrait and text,
30 x 30 x 1 cm of thickness.
Perfect resistance outdoors with stable engraving.

No need of monumental mason to fix the plaque,
Save up !
The research of the perfect embedding has been long.
It's an accomplished and flawless product we suggest you.
Much more economical than engraving on the spot,
make up on-line your plaque, order and put it yourself.
Our plaques are perfectly well engraved because we have been professionnal engraver since 1989
our granite is 1st quality and our price 'direct workshop' are till 3 times cheaper*.
Below :
Photo of a memorial plaque of black granite.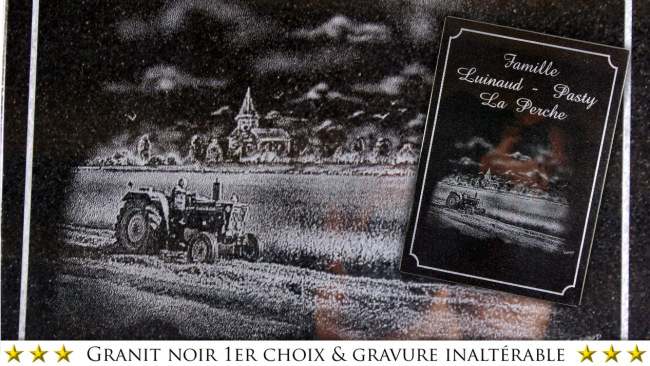 Height : 30 cm, width : 20 cm, thickness : 20 mm
Memorial plaque delivered and drilled with its 2 screws and hide screws in brass.
As usual, our engraving is stable because we never trace by laser, or do serigraphy.
Since 1988, J. RENAUD has gained a unique know-how in France that is awarded by :

- official listing on the international art market by Drouot Cotation Paris,

- Patent of invention granted by INPI,

- Stars & Métiers 2012 award, category innovation.
Engraving of art with an engraved portrait in the mass and stable ::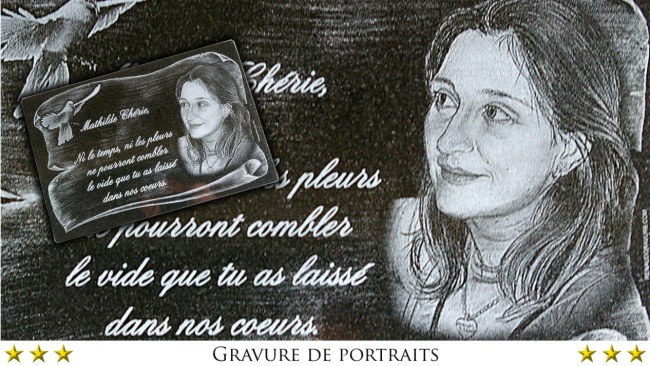 You have different ways for making up :
Either you look the sorted out by theme models,
you choose one and customize this model.
"Or you directly click on ""Create a plaque"" at the top of this page. "
We are at your disposal to advice you, do not hesitate !
| | |
| --- | --- |
| Visit the forum | |




Our references :




Joailleries CARTIER internationnal, Monuments Historiques, U.N.E.S.C.O.,
Versailles, Ambassades & Consulats, Groupes Pierre & vacances,
Académie Française, C.N.R.S., La Sorbonne, L.C.I., Woods TV, Mairie de Paris, Mairie de Nice etc.