Customised Glass Memorial Plaque. Top-op-the-range.
In Loving Memory Plaques. Glass with stable engraving.

WORLDWIDE
SHIPPING





ARTISTIC
ENGRAVING
The features :

Real burglarproof glass ( security). Does not turn yellow, be deformed, cracked.

Contrary to PMMA, plastic or printed glass, our genuine engraving doesn't fade and doesn't lose its colour.

Models to screw provided drilled + massive inox angle brass and inox screws.

Models to put provided on granite bases of the same width of the glass for a perfect stability.

Real engraving in the glass ( no laser or printing )




Easy and visual customisation and price in real time !

Artistic work of the portraits with photorealistic study for agreement before engraving.
Custom memorial plaques below :

Change plaque or material, change patterns , sizes , text , add your photos ...
The custom models below are only a small part of the creative possibilities.

Note :

9.8 / 10 - 231 opinions.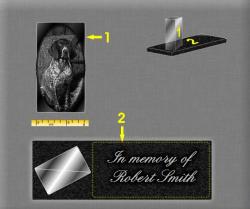 Engrave photo of a dog on original memorial plaque. Glass block
Material : glass

Size : H. 17 x W. 30 x Th. 10 cm
   6 kg

174 Euros
The price includes the full customization.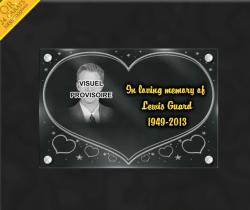 Engraved portrait of the deceased on a glass memorial plaque
Material : glass

Size : H. 20 x W. 30 x Th. 1 cm
   1.5 kg

329 Euros
The price includes the full customization.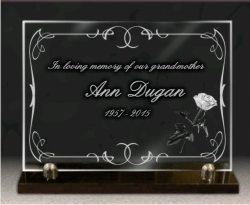 Glass memorial plaque, with engraving of decorative border and rose
Material : glass

Size : H. 25 x W. 35 x Th. 1 cm
   5.4 kg

288 Euros
The price includes the full customization.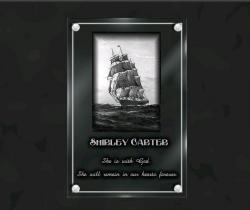 Glass memorial plaque, to screw. Engraved in the mass
Material : glass

Size : H. 30 x W. 20 x Th. 1 cm
   1.5 kg

266 Euros
The price includes the full customization.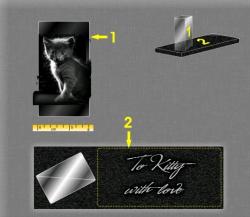 Engraved block of glass with photo of a kitten. sticked on granite base
Material : granite

Size : H. 17 x W. 30 x Th. 10 cm
   6 kg

174 Euros
The price includes the full customization.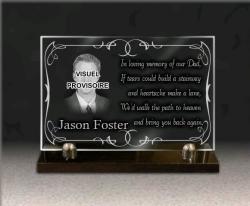 Memorial plaque composed of a burglarproof glass plaque and granite base
Material : glass

Size : H. 20 x W. 30 x Th. 1 cm
   3.7 kg

320 Euros
The price includes the full customization.
In loving memory plaques with real glass, engraved in the mass.
The real glass doesn't crack, doesn't turn yellow and doesn't deformed.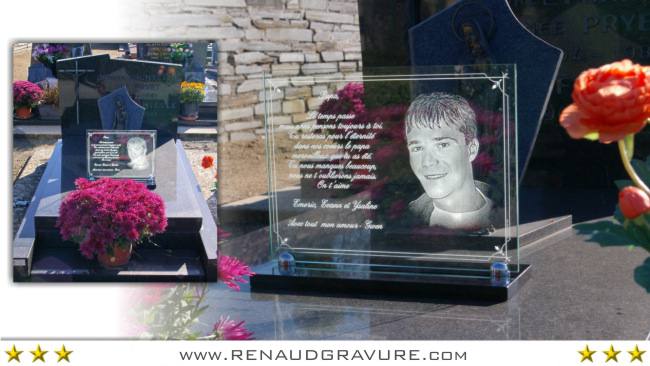 Our engraved glass plaques are very aesthetic and outdoor resistant.
Here, the photo of the deceased is manually worked by the engraver artist and of a stable quality.
The glass is from a burglarproof quality and the base is in massive granite 1st choice.
Plaque of engraved glass fixed on a granite base totally steady :
Engraving on glass for engraved glass funeral plaque with decorative border.
For a good visibility, the monument on which you will put down your glass plaque must be dark.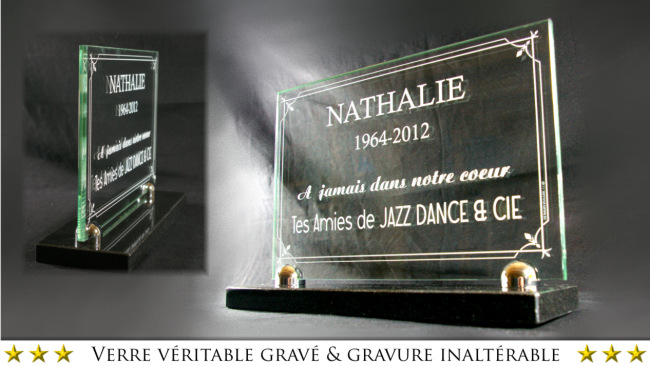 Click on the following links to see the photos of :
A glass memorial plaque on a granite base with a 2cv, collection car
Glass memorial plaque, in loving memory plaque with music score for musicians and music-lovers
The glass engraving : A perfect resistance,
an unfailling stability.
Our engraved glass articles are composed of a glass with burglarproof retarder
very known in the security field for its resistance quality.
This engraved glass of 9mm thickness is added to a granite base of 20mm thickness.
Your glass memorial plaque is steady :
This base in heavy granite measures all the width of the glass to protect it from the impacts,
it has a depth calculated especially to ensure
a perfect stability of the plaque on the memorial monument even in cas of storm.
Portrait manually and artistically work and stable engraving :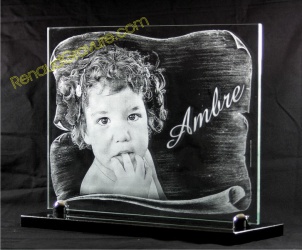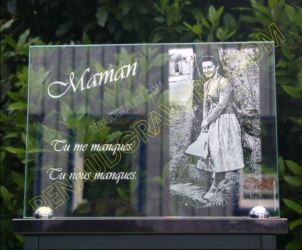 -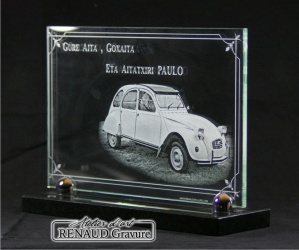 2cv Car on a glass memorial plaque
Only the real glass resists outdoors
We find on the Internet lots of plaques in PMMA, plexi ' so called glass' : Attention,
it is important to be well informed about the poor quality of plastic plaques.
Indeed, for most of them, they are objects in acrylic glass called 'plexiglas' or 'PMMA'
Those products are symply printed in the great majority of the cases.
Of course, the cost of production is extremely low but so is the quality.
Those making absolutely does not resist in time.
Besides they are never guaranteed more than 5 years.
At Renaud Gravure's we use genuine glass,
so they are perfectly resistant to outdoors agressions like great heat or frost.
The glass doesn't suffer from time's agressions, the plaques are guaranteed 50 years without turning yellow,
without cracking, nor being deformed because the glass doesn't undergo a change in time.
Moreover, those plaques are engraved thanks to a unique sanding technique
that allows the making of ultra thin details, better engraved than by laser.
As the engraving is made on the back of the plaque, this one is also
guaranteed antitag and remains easy to clean.
Indeed, the glass used is guaranteed burglarproof.
If your monument is light,
The white engraving is few visible.
The engraved glass is very beautiful and modern but you must think of one thing :
Because the engraving is white and the glass transparent, if your monument is clear you wil not have
a good visibility of the portrait or of texts.
A solution exists, choose texts engraved and gilded 24 carat.
About the portraits, there are not other possibilities than engraving them in white, thus
we advice you against the glass plaques if your monument is light.



Above : memorial plaque of genuine glass engraved in the mass with perfect outdoors resistance.
"ATTENTION, as qualified professionnals;"
We only suggest you plaques outdoors resistant.
So we don't create printed plastic plaques !
Above :
Reproduction of an old photo engraved in genuine stable burglarproof glass.
The photo has been artistically worked by Jocelyn RENAUD, engraver artist qualified and rated by Drouot Cotation
to give a perfect rendering at the engraving.
The engraving is hollowed, so it is stable.
The glass is burglarproof and genuine glass.
Unlike memorial plaques in PVC or other plastics, our plaques do not turn yellow,
are not deformed and don't fear neither the frost nor great heats.
You have different ways to design a making up :
Or you look to the models sorted out by theme,
you choose one and personalise this model.
Or you directly click on 'Create a plaque' at the top the page.
We are at your disposal to advice you, do not hesitate !
Engraving gilded with gold leaf,
very good visibility,
even on a light monument.
Whatever is the colour of the memorial monument, engraved and gilded texts and patterns are very visible.

Below : reproduction of a score provided by the client. This plaque measures 40x30cm,
it is fixed on a granite base of 40x15cm. The whole is of a perfect stability anticipated for the gusts of wind.
For a good visibility, the monument on which you will put down your glass plaque must be dark.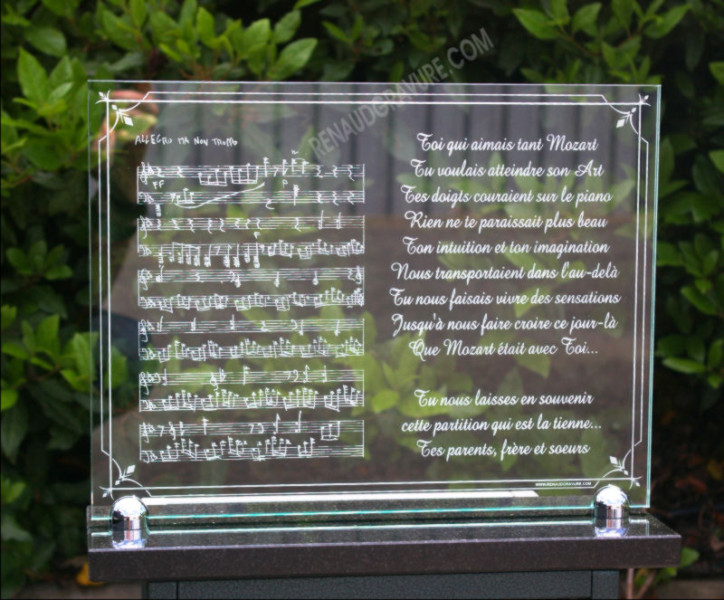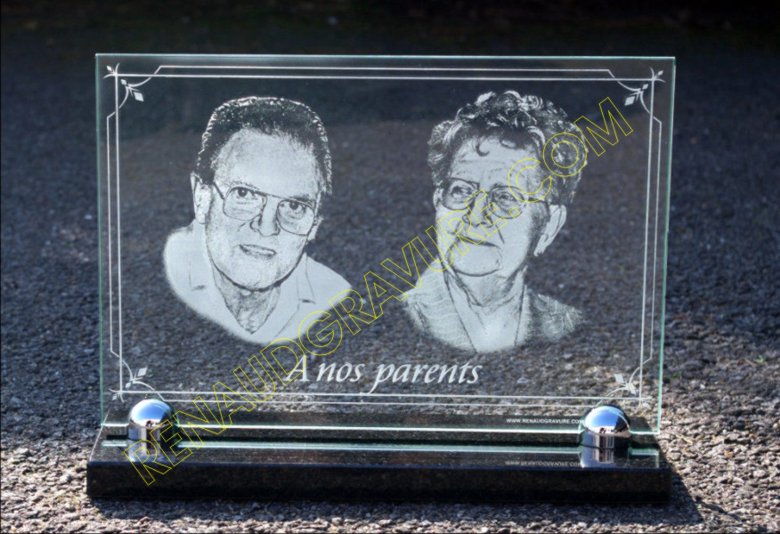 Above : bereavement glass plaque 20x30cm x10mm in burglarproof glass engraved in the mass.
Stable engraving ( not in serigraphy or adhesive)
For an original plaque : opt for glass
If you want to offer an original plaque to a dear deceased person,
you can choose to engrave glass.
Those one will match with every styles, according to the elements you will insert you will have
a classical or resolutely modern result.
These plaques of memorial park are laid down on very heavy granite base that ensures a great stability.
To customise those plaques, it is possible to engrave the photo of the deceased or an object or a landscape he was fond of.
It is also possible to choose patterns in the list suggested by the configurator.
The engraving obtained by sanding are naturally white but we can gild them.
For this, Renaud Gravure uses genuine 24 carat gold leaf ( 1000/1000th), the one totally stainless.
These gilts allow to give a more luxurious effect but also make the engraving more visible
according to the monument's colour on which the plaque will be put down.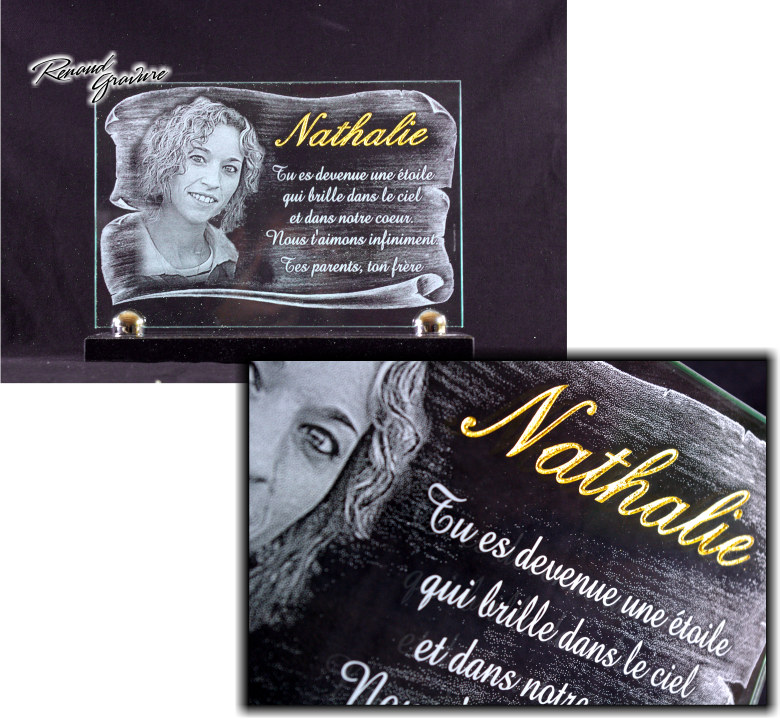 Above : Burglarproof glass plaque (30x20cm) engraved and gilded with 24 carat gold.
Very steady granite base 30x10x20mm
Engraving hollowed, stable.
Manufacture within 10 working days,
free delivery in metropolitan France.
A plaque a great purity
Among all those possibilities at Renaud Gravure's,
the glass plaques are especially indicated to decorate a granite monument.
Those plaques manually engraved and entirely made to measure are from the better effect in the dark background.
The technique of engraving by sanding, used on the genuine glass,
offers a big grey colour chart, from the darkest to the lightest till white.
The black granite base which serves of support to the plaque will perfectly match with dark monuments.
To give a prestige touch it is possible to insert a gilt
made of pure gold, on the whole engravings or only a part to highlight it.
Renaud Gravure is the only french company that uses 24 carat gold leaves,
that guarantees a good resistance over years because pure gold is totally stainless, contrary to alloys.
Those glass items can also be ordered without base, in order to be directly fixed
to the monument thanks to massive inox fixation.
A work of art
in glass engraving for a last tribute.
An engraver of carrier is above all an artist
who uses his hands rather than a machine.
It is futile to wish to compare a plaque RENAUD Gravure
to another memorial plaque traced by laser, serigraphied or imported from China…
Those products are so different that they are incomparable.
Photo of an engraved burglarproof glass funeral plaque..
Glass plaque put in situation in a memorial park.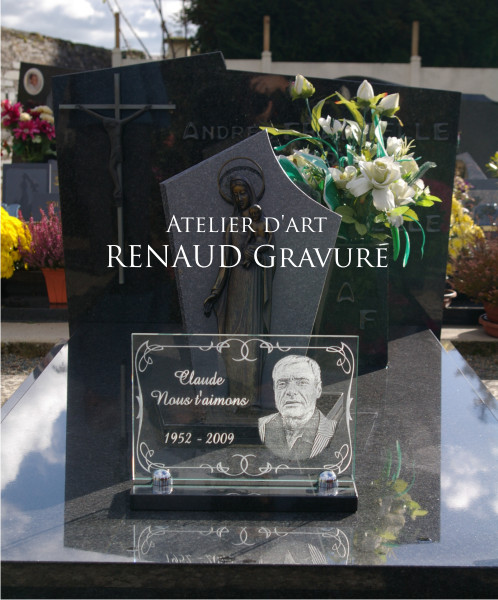 Our glasses are burglarproof glass, with stable engraving ( without serigraphy or printing )
The engraved granite is rigidly fixed on a base by stainless chrome brass fixations,
The base is in 1st choice granite of the same width of the genuine glass plaque, by its weight and its wide size
it brings a perfect stability to the whole, even by storm.
We advice you a dark monument because the engraving is light.
Exists in plaque to put ( delivered with bases) or to fix ( drilled, delivered with screws and hide screws )
| | |
| --- | --- |
| Visit the forum | |




Our references :




Joailleries CARTIER internationnal, Monuments Historiques, U.N.E.S.C.O.,
Versailles, Ambassades & Consulats, Groupes Pierre & vacances,
Académie Française, C.N.R.S., La Sorbonne, L.C.I., Woods TV, Mairie de Paris, Mairie de Nice etc.